9 carat Gold Bar Necklace with Diamonds or Gemstones
0 Review(s)
FREE UK Shipping on all orders and FREE gift wrapping service. Make sure you tick the box and include a personal message.
Gold pieces are shipped 1-2 weeks after order
Your jewellery comes in an eco-friendly luxury box finished with a beautiful matt black leatherette material certified by FSC® (Forest Stewardship Council)
We offer 6 months warranty for your jewellery which covers damage caused by manufacturing only. Our full refund policy can be found here. Please note that personalised jewellery are not eligible for returns.
This product cannot be returned or refunded.
The straight pave figure bar necklace represents simplicity and straightforward thinking; thoughts you discover from being still. The precious metal used are hand cut and each gemstone or white diamond is set with care at our atelier in Royal Tunbridge Wells. The intricate pave setting showcases is an impressive detail in this unisex gold necklace.
Elevate a necklace layered look with our double pearl choker and the exquisite baroque pearl necklace in long chain. See images for inspiration.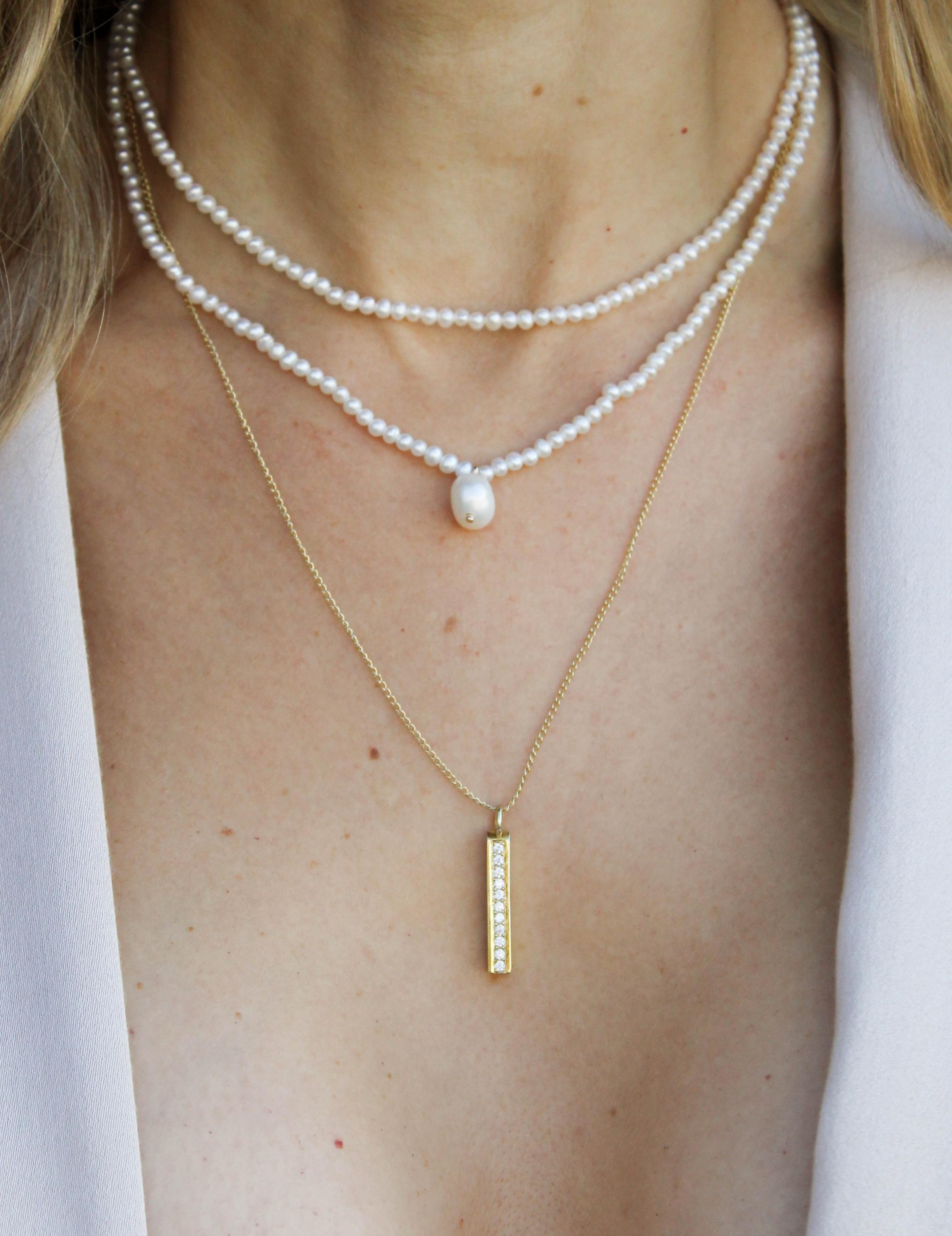 Discover our 9ct gold collection here.
9 carat Yellow or White Gold
11 x 1.7 mm white diamonds or your chosen gemstone
Total diamond weight is 0.22 ct
25mm length, 4 mm width and 4mm depth
4.85 grams
Gold pieces are hallmarked in London ASSAY Office
Choose a gold chain for men or women or an option to purchase the gold pendant only
Customise with your chosen gemstones or choose luxury white diamonds
Handmade to order jewellery
We only create jewellery upon order which means your jewellery has not been sitting on the shelf for months and months waiting to be dusted and placed in a box. Handmade jewellery means, the piece is unique to you and made just for you. We are fortunate to have our own jeweller and diamond setter in house, which means we are able to create jewellery with short notice, without sacrificing quality.
Sustainability
We only use recycled gold and silver. Recycling precious metal cuts down CO2 emissions by ⅔ versus mined silver. It is better for the environment, reduces water usage and reduces other environmental impacts. Because we only create jewellery when there is an order, this means, there is no unnecessary production and waste.
Responsible Manufacturing
Because all our jewellery are made under one roof, we are very proud to say all our jewellery are designed and made in England where you can be sure that we only use local talents and therefore it is very easy for us to claim that we adhere to promoting fair and equal labour rights. We do not source our craftsmanship abroad and we value the available local talents and skills around us.
0 Review(s) for

9 carat Gold Bar Necklace with Diamonds or Gemstones

Overall rating:
Rate this product:
Ask a question about this product
Please log in to your account to add a question or vote for a question.
Community Posts